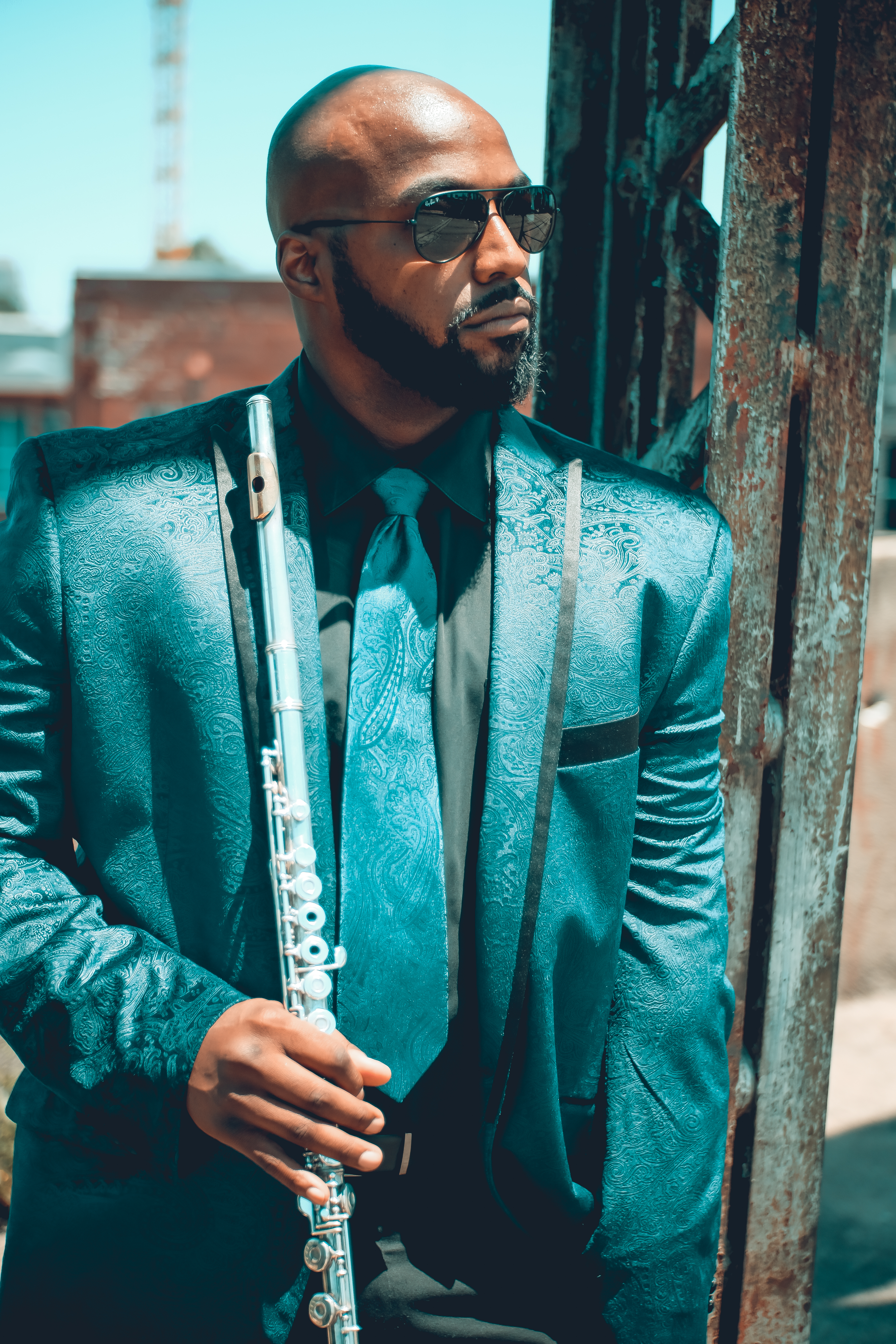 "Music gives a soul to the universe, wings to the mind, flight to the imagination and life to everything." ― Plato
JJohn William, Flautist, born John William Conner, is vastly emerging as one of the premier flautist in the music industry. The Atlanta native prides himself on producing a unique sound that keeps his audience captivated until the very last note. From the mesmerizing melodies to the hypnotic harmonies, John believes that music is a conduit for one to achieve inner peace and tranquility.
At the age of 8 years old, John first began to play the flute in elementary school (Collier Heights) and church (Beulah Baptist Church). Under the mentorship of Rev. Arthur McClenton, John quickly realized that he had been given a gift, to play music by ear. Mastering that ability allowed John to quickly learn music at an astonishing rate and broaden his performance repertoire.
Embracing his individuality as a male flute player, John continued to hone his craft throughout middle school (Jean-Childs Young), high school (Frederick Douglass), and college (Morehouse). With musical influences such as Stevie Wonder, The Temptations, Earth Wind & Fire, Najee, Michael Jackson, and John Williams (composer) John began to truly understand the power of music and how it shapes one emotions, thus ensuring that every performance is a memorable experience for the listener.
In the spring of 2007 to present, John began his teaching career as the Director of Bands at Crawford W. Long Middle School in Atlanta, Georgia. His love for music and passion for education was honored in 2012 when he was recognized as the Teacher of the Year.  In 2019, John would go on to earn is Doctorate of Education with an emphasis on Music Education from the University of Georgia. With "Create an experience" as his musical compass, John continuously implores his students to play with passion, perform with purpose, and uphold the excellence within.
John prides himself on the versatility of his performance repertoire, which includes the genres Gospel, Light Jazz, R & B, Motown Oldies, Soul, Pop, Hip Hop, Light Rock and Neo- Soul. With an ever-growing desire to entertain, John has performed all over Atlanta at establishments such as Apache Café, Kat's Café, Venkman's, Copeland's of New Orleans, Pappadeaux Seafood Kitchen, FUMI Hibachi & Sushi Bar and the  Hartsfield-Jackson Atlanta International Airport.
Over the course of his career, John has galvanized thousands while performing for weddings, birthday parties, anniversaries, corporate events, graduations and reunions. As of recent, John had the honor of performing the National Anthem for the WBCBL's Atlanta Monarchs, the WNBA's Atlanta Dream, and the College Park Skyhawks. In 2017, he achieved a milestone in his career by gaining placement on the soundtrack for the motion picture "Superfly". Produced by David "DJ Burn One" Sweeten, and performed by Sleepy Brown and Scar, John had the opportunity to lace his dynamic style to the song entitled "If You Want It" which is the first song found on the soundtrack.
On May 8th, 2019 John released his debut album entitled "Melodic Ascension". Produced entirely by DJ Burn One, the work featured the talents of spoken word artist Big Rube, instrumentalist Siraaj Rhett, and vocalist Anna Valena. "Melodic" explores thematic materials from the genres of Jazz, Blues, Neo-Soul, and instrumental Pop. John's sophomore album, "Tomorrow's Yesterday" will be released in early 2021.